Getting your fix
Posted: April 21, 2011
Filed under: Buddhism, Religion, Zelazny
4 Comments »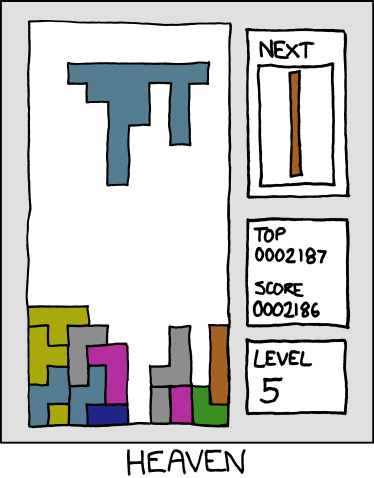 This comic from Xkcd is a very fun one, but if you read the alt caption (go to the original page, move your mouse over the image), you will see an interesting caption:
"If you've never had sex, this is what it feels like. Complete with the brief feeling of satisfaction, followed by ennui, followed by getting bored and trying to make it happen again."
I read that and laughed and said to myself "wow, that's so true." It reminds me of a quotation from the Buddhist text, The Dhammapada which contains quotations of Shakyamuni Buddha:
186-187. There is no satisfying sensual desires, even with the rain of gold coins. For sensual pleasures give little satisfaction and much pain. Having understood this, the wise man finds no delight even in heavenly pleasures. The disciple of the Supreme Buddha delights in the destruction of craving. (trans. Ven. Acharya Buddharakkhita)
Here, the Buddha is making a statement that sensual pleasure isn't bad, but not worth the cost, especially if we have to do something shameful or degrading to get it. That's where the "much pain" comes in: cost, effort, toil and so on. If the pleasure lasted forever, that might make sense, but because everything is impermanent, sensual pleasure is always short-lived. No matter how good it is, it's never enough.
Anyone who's had sex knows that sometimes sex is really good, and sometimes it's awkward, unsatisfying, or just more work than it was worth. But think about the best sex you ever had in your life, and think how long you were satisfied after that. Even with the pleasant "afterglow" the satisfaction doesn't last long. The memories are pleasant and long-lasting, but the satisfaction itself is short lived.
Now apply that to anything else you like: good fix, fun video games, good music, etc. As the Xkcd comic states, the feelings of enjoyment are short-lived, and then we spent lots of effort trying to recreate them, but it's never quite the same as the first time.
I tend to listen to certain music albums over and over again, but inevitably the songs aren't as good as they were before. Or certain books I re-read many times,1 including religious books.
This is why in the Four Noble Truths of Buddhism, the second truth states that "all suffering is caused by selfish craving". No matter how you try to satisfy yourself, we soon get restless and bored. Without realizing it, we keep hitting our head against the same wall, expecting a different result each time. This is the "ignorance" the Buddha spoke of.
Meanwhile, you're getting older and one step closer to death.
I have to admit I've thought about celibacy in recent years. Not because I don't love my marriage, far from it, nor do I want to end my marriage (again, far from it!). I just realize more and more that making sex a priority in my life, even while I have so few years left to live, is foolish. I don't want to live life like an animal spending my life satisfying basic needs, even as the "trap" is closing around me.2
Namo Shaka Nyorai
1 Even my favorite author, Roger Zelazny.
2 This also reminds me of the famous "parable of the poison arrow" contained in this sutra (about halfway down).
---